Customer Success, isn't it just another word for customer service?
– No, not at all. Customer success is when our customers achieve their desired outcomes with the appropriate experience. Which cannot be achieved if it does not include product development, service delivery, support, sales, and marketing. Hence it is a way of doing business.
Where the entire organization is focused on the customers, and how the customers can succeed. In short, it is a company-wide objective to become experts in the customer's business, helping customers to achieve business outcomes and derive more value from their investment
When you talk about the desired outcomes of your customers – what do you mean? Is it not a little vague?
– Well, it is in our DNA to work with safety, e.g., avoiding hazardous incidents, as goal number one. However, we find that our customers have a broad set of objectives, which also differs greatly from customer to customer, as well as between the various constituencies within these organizations.
In general, you could say that our software results in greener, safer, and more efficient operations. For example, an important outcome of leveraging eDrilling is spending less time per well, addressing the overarching desire of most energy companies for greener and more efficient operations. Similarly, enabling owners and customers of "old" rigs and equipment, with legacy systems, to take advantage of these technologies using existing infrastructure, address the all-important sustainability and carbon emission goals of the industry.
Examples?
Many. Just this past month we helped one customer shave 46,5% off their drilling time, aided another to avoid a wiper run, and prevented a stuck pipe on a third.
As for the latter, we have yet to calculate the tonnes of carbon dioxide (CO2) savings per rig by removing the need for the energy locked into new build materials and manufacturing. But it is mind-boggling…
An individual drilling engineer though, perhaps define his or her success as delivering an accurate drilling plan, with increased collaboration with the subsurface. A driller would define making better and informed decisions as success.
An IT professional will probably define secure, scalable, interoperable and user-friendly solutions as a win. Hence, we aim to understand in depth the various challenges and experiences and improve them.
Finally, the digital transformation of the energy industry is in the midst of calls for cloud solutions to enable people around the organization to make better decisions based on data always made available and actionable everywhere. At the same time, other scenarios call for the same solutions, the same technologies, to be available at the "edge" – closer to the location in laymen's terms – to improve response times and save or make up for lack of bandwidth. Thus, we do both.
eDrilling just launched their solution for Autonomous Drilling Control – is this the end game?
Whilst it used to be seen as a "holy grail", it is no longer. Of course, it is a no-brainer for new builds and rigs with the latest in control systems. And our world leading AI-software is powering these solutions. However, most fields and installations do not have this readily available.
We think it is equally, if not more, important to offer the same technologies, and consequently the same benefits, to customers, teams, crews, and individuals on all wells. Zero incidents, zero sidetracks, and performance records should be attainable for all.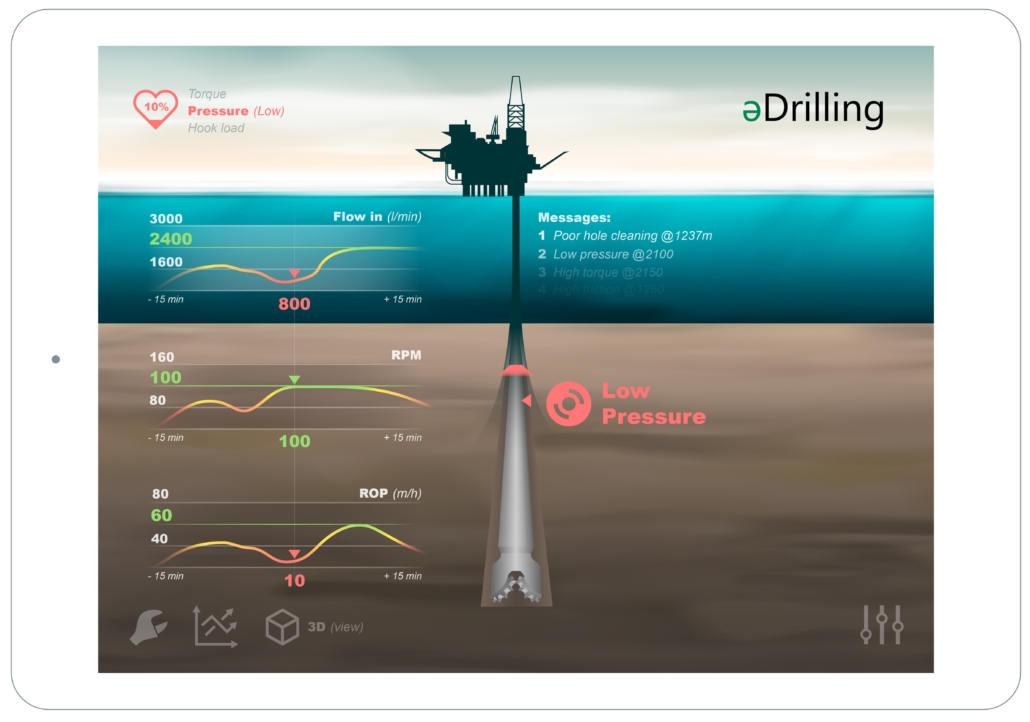 Our customers see this as our biggest breakthrough. Extending field life, meeting carbon emission goals, and making real progress vs just greenwashing.
Millennials and Generation Z would rather own one quality t-shirt than having a stack of twenty. They'd rather reuse their favorite pair of jeans, than filling their drawers with pants. I am not sure their career goal is to join companies whose business models and practices do not put ESG front and center.
The energy industry agenda is now indisputably green. And eDrilling is rejoicing it.
https://edrilling2.inbusinessclients.no/wp-content/uploads/2021/05/eDrilling_DSB9499_webres-scaled.jpg
1712
2560
Toni Fadnes
https://edrilling2.inbusinessclients.no/wp-content/uploads/2018/05/eDrilling-logo.svg
Toni Fadnes
2021-05-26 12:06:34
2021-05-26 12:08:13
How our AI solutions help our customers achieve their desired outcomes